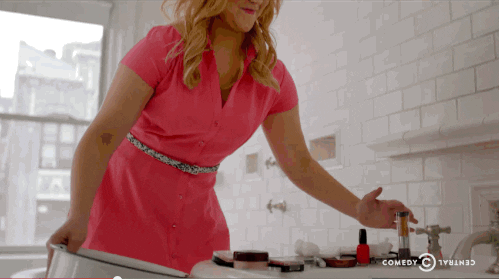 I've said it time and time again: Millennials value experiences over things. I often cite a July 2014 Eventbrite survey that reveals just how much. In it, 78% of millennial consumers said they'd rather spend their extra cash money on an experience/event over a product.
For a lot of people, that probably means deciding to go to a music festival instead of buying an Apple Watch. For me, it goes way beyond that.
The experiences > things lifestyle has only recently become my jam, though. Back in the day [and by that, I mean, like, two years ago], I used to love things. Owning shiz from Coach, Kate Spade and Michael Kors made me happy – even if I never actually wore it because it made me feel like a poser. My closet was always cluttered; I never knew what to wear because I didn't even know what I had. Looking for anything under my bed was a nightmare because that's where I kept my stores of beauty and hair products I didn't use, but that I kept juuuuuuuust in case I needed them someday. [I can assure you my very brown skin would never need the super dark tanning oil I received via ipsy, yet I still couldn't bring myself to toss it.]
In 2014, however, I [unintentionally] began my journey toward minimalism. My living situations were so transient, scary and chaotic, that I was pretty close to metamorphosizing into Britney Spears circa 2007. In the span of 12 months, I lived in FOUR different apartments. That was it for me. I was exhausted of moving from borough to borough, carrying clutter with me. I no longer enjoyed owning things for the sake of owning them.
Still, I felt guilty giving a lot of things up … so I continued to carry all my crap around New York City like a mule.
That is, until I read Marie Kondo's The Life-Changing Magic of Tidying Up: The Japanese Art of Decluttering and Organizing.
I had stumbled across reviews for the book on various media outlets, but I wasn't buying into it. There was no way some rando lady was going to instruct me on how to fix my life in 2015. One evening, however, I was looking for some literature to entertain me after downing a plastic cup of Merlot on a flight. Amazon recommended the book to me, and I bought it. And for serious? It actually changed my life.
The top two things Kondo emphasized that transformed my way of thinking were:
1. Don't feel guilty about throwing things out because they were handed down to you by a beloved family member. I love my sisters more than anything, but for a looooooong time, I stored shirts and skirts I abhorred [sorry, L & D] only because my sisters handed them down to me. I felt terrible throwing them away because doing so somehow felt like I was betraying them. The book explained how to make peace with giving away hand-me-downs, and I'm forever grateful. Not only was I able to shed quite a few items I didn't want [and that my sisters clearly didn't want either], but I learned how to politely decline hand-me-downs in the future if I know I won't use them.
2. Introspect: What brings you joy? Taking the time to think about the things that really make you happy simplifies the transition into minimalism. Here's an example: I bought a Kindle for myself back in 2012, which I used quite frequently … until I received an iPad last Christmas. Still, I held onto the Kindle because it felt like the right thing to do. After reading Kondo's book and realizing that the Kindle no lon, I decided to give it to someone who would appreciate it.
My new perspective
So last month, when I moved to Florida from New York with my new minimalist mindset in tow, I felt incredible. I became a resident of the Sunshine State with nothing but two luggages of clothing, a few pairs of shoes, and a small duffle bag of sentimental items.
I purged even more when I arrived and decided to invest in a "capsule" wardrobe – comprised of several higher-quality items to mix and match into a variety of outfits for work and for play. I have banned myself from shopping sprees at Forever 21 and Urban Outfitters, where I would purchase a crap ton of stuff I could only wash and wear once before they fell apart. [FYI – no judgment to anyone who loves and shops at these stores. If items from those brands bring you joy, you are living it right.]
My new lifestyle benefits me in multiple ways: 1. I have less stuff to clean, organize, manage – leaving more time to live my life. 2. It saves me money – allowing me to put more $$$ toward paying down my student loans, traveling and concerts [see ya in August, my dear Drake]. 3. I feel the most zen I've ever felt in my 27 years. Namaste, betches.